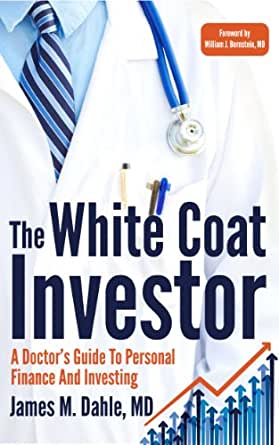 Written in an easy to understand language, "The White Coat Investor" is a financial analysis opus written by a tenured doctor of medicine, Dr. James D. Dahle. Recognizing the need for financial literacy, the good doctor had made lengthy discussions of substance. It is common contention within the financial and medical community that while doctors and other professionals, while well-educated in their field of expertise, are susceptible to the traps of aimless purchases and bad investments. And these traps, as easy they are to fall into is even harder to get out of.

What the book, "The White Coat Investor" does is teach professionals on how to go about making sound financial decisions. The book is a hard look into a professional's penchant to unwise spending that only leads to unforeseeable losses that waste the full potential of an investment, no matter how secured financially the investor is.

The book advises the investor on how he or she would be able to turn income into handsome wealth. To make us privy to the details that the book contains, here is an overview through its table of Contents:

Chapter 1: The Big Squeeze:
This part tackles how tuition that constantly goes up, lowering reimbursement, and regulatory headaches try to sabotage your professional life.

Chapter 2: Millionaire by 40
This part discusses how one can reach a net worth of 7 figures within 5 to 10 years out of residency.

Chapter 3: If I had a Million Dollars
These chapter mentors professionals how they can go about accumulating wealth by effectively saving income and vice versa.

Chapter 4: Medical School and Your Wealth
This part walks the readers through making the sound choice in schools and specialization to attain a professional aim.

Chapter 5: Residency and Your Wealth
This part goes through financial steps a professional can take as a resident.

Chapter 6: The Secret to becoming a Rich Doctor
This chapter instructs how to obliterate all debt and avoid one in the first place, purchase a dream house, and build a family within the five years of residency graduation.

Chapter 7: The Retirement Number You Control
This discusses why one's savings are more pertinent compared to returns of investment.

Chapter 8: The Motorway to Dublin
This part stresses upon the reader how he or she can stop making useless and altogether bad investments.

Chapter 9: Getting Off the Motorway
The chapter discusses the advantages of investing in real estate, life insurance, private investments, and one's house.

Chapter 10: Paying the Help
This discusses how one can get good advice for a reasonable price.

Chapter 11: The Basics of Asset Protection
This part goes into detail on how one can safeguard his or her funds from lawsuits.

Chapter 12: Estate Planning Made Simple
This chapter walks through readers on how to avoid estate taxes, how heirs can be safeguarded, and avoid probate.

Chapter 13: Income Taxes and the Physician
This part is an analysis of why people pay handsome amounts for taxes and what can be done about it.

Chapter 14: Choosing a Business Structure
This is a discussion on why the incorporation of a business will not be able to protect its owner from lawsuits or saving much from taxes.

Chapter 15: Enjoying the Good Life
Simply, this part teaches a professional on how to live a life free of financial worries.

Chapter 16: The Mission of The White Coat Investor
This is the discussion on how doctors can be taken out of the trap of always having to be ripped off.

The Review
The book, "The White Coat Investor", while bearing a title that seems to be a departure from its original intent, is to be enjoyed in light of its advantageous content. Even those not belonging to the medical community would find it helpful and purposeful. The analyses contained in it are more than truthful; they are factual across all possible disciplines.

The professional community is in common opinion that the book "The White Coat Investor" is a book worthy of a spot on every working-class citizen's shelves. Suffice it to say, Dr. Dahle delivers on the promise of financial literacy, thus permitting those who read it a life emancipated from huge financial worries.