ProfitiX is considered a market maker type of trading broker located in St. Vincent and the Grenadines. This platform is relatively new in the financial industry as it was only established back in 2019. Since its services were made available last year, it already gained large number of clients across the globe.
What makes this brokerage firm a good choice is its large selection of assets. These assets can be traded through the optimum MetaTrader 5 while traders are given the most favorable trading conditions such as educational materials, video archives, market analytics, and relevant indicators.
Though it has decent number of perks, Profitix has also disadvantages. For one, it is an unregulated foreign exchange broker and is reported to be registered offshore. All features are accessible for a minimum deposit of $250 – an amount far larger than any minimum deposit within the financial industry. Its structure is fixed and no additional trading tools are available. The absence of MetaTrader 4 and PAMM also put this brokerage firm behind other brokers.
However, it compensates by providing transparent pricing. It works through aggregation with liquidity networks (banks and other liquidity providers) wired together. This setup brings larger options for trader when it comes to what type of market they want to invest in.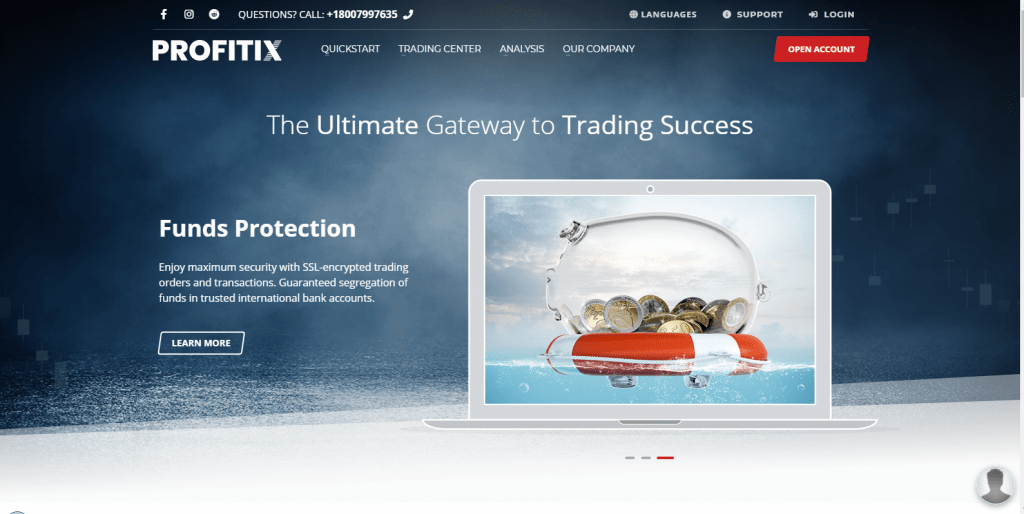 ProfitiX Account Types 
ProfitiX has much wider option of accounts compared to one to three types that other brokers offer. Since it provides five live accounts, clients are given a more personalized type of trading structure. This also enables them to pick the best offer that suits their trading style. More so, it has a demo account just when clients want to test the platform first.
-Minimum deposit of $250
-Maximum leverage of 1:400
-Minimum order size of 0.01
-More financial instruments are available
-Minimum deposit of $2,500
-Maximum leverage of 1:400
-Maximum order size of 10.00
-Increased level of profitability
-More financial instruments are available
-Minimum deposit of $25,000
-Trading portfolio
-Market analysis
–Minimum deposit of $100,000
-Hedging
-Trading portfolio
–Negative balance protection
-Low marker price difference
-Hedging
-Premium selection of assets
Services and Other Features  
As mentioned above, ProfitiX does not have any additional tools such as calculators, currency convertors, and sentiment analysis. However, it functions through MT5 equipped with necessary tools to carry out an efficient trading. Despite its lack of pertinent tools, traders would not face any rough trading experience since its system was optimized. Below are some of the interesting features that it offers.
Cross-asset trading structure
Level II pricing transparency
Intermediate to Advanced charting instruments for financial and market analysis
Sleek interface available in different languages
Automated trading structure
Hedging
Real-time price updates and notifications
SSL-secured trading servers
24/5 client support
Platform compatibility and flexibility
All the aforementioned features keep ProfitiX the number one solution despite absence in some aspect. More so, it provides intensive educational support to help traders navigate through trading. We can say that this brokerage firm has a trader-centered approach since it provides:
Economic Calendar – This is highly advantageous for someone who wants to track major financial events. Similarly, information derived from the economic calendar can be used as important variable when conducting a financial analysis.
Education Center –This is an interesting and authoritative feature of ProfitiX. The platform has a separate section for anyone who wants to learn the basics and fundamentals of trading. It provides a comprehensive lecture about forex, charting, technical indicators, trading platforms and more. To note, one won't find this taxing since the videos are short and straightforward.
Market News – This broker provides stream of financial news gathered from across the world. This is as important as any educational materials since it tracks market movements and can also be utilized as a relevant source for analysis.
Deposits and Withdrawals 
Withdrawal and deposit with ProfitiX exude much convenience since both are available through various methods. It includes bank wires, credit and debit cards, and online payment systems (Skrill and Neteller). Centralized money transfers are also available including Western Union and Money Gram. However, not all clients may place transactions through these and only select countries are available to specific methods. It is also important to note that some methods entail charges and withdrawal speed relies heavily on what type of method you are using.
Trading With ProfitiX
While it is true that ProfitiX has an impressive set of assets, there are still areas that need improvement. For one, it places behind other broker since it is unregulated. More than the educational materials it so proudly provides, the minimum deposit is still higher than the industry standard. Social trading is not available which only adds to number of reasons why investors must resort to other broker. But if you find the above mentioned features suitable to your trading style, then maybe it is good that you open an account with ProfitiX.