LBLV is a foreign exchange brokerage firm located in Seychelles.  It started operating back in 2017 and had its name filed under the Financial Services Authority (FSA). Despite being young when it comes to years of service, LBLV boasts a total of 98,000 active traders from different parts of the globe. More so, it is considered a major operation and a market-maker since it has a large number of employees working at 36 leg offices across 5 continents. Its services are rooted mainly from two objectives: high-quality solutions and intensive support. In this review, we will take a closer look at LBLV's overall functionality and assess if it is worthy of an investment.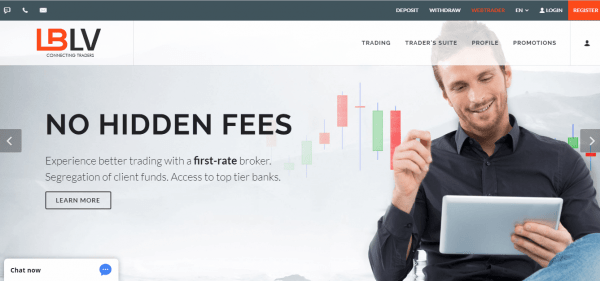 ACCOUNT TYPES
LBLV likes to make things more personalized for its traders. This is evident from the wide array of account types that this company offers. Six account types are made available for traders, all of which are equipped with unique functions and features and requirements.
ROOKIE- This is the platform's starter account where traders must pay a minimum deposit of $5,000. This seems to be an expensive deposit given that the account type is at entry level. For an account type that comes with floating spreads and bears no additional instruments, we can conclude that the deposit is quite high. However, traders are already provided with MT5 platform, mobile trading, an account manager, and an option to open an Islamic account which follows the Sharia Law.
BASIC- Traders may open this account for a minimum deposit of $25,000. This also comes with floating spreads and its offered features are identical to Rookie's. Though this is the case, it is wired with Electronic Communication Network of Brokers. This allows clients to increase their portfolio through stock trading.
PREMIER- The premier account provides a more comprehensive set of instruments for a minimum deposit of $50,000. Similar to the aforementioned account, it also has floating spreads but has wider trading support. This includes 24-hour support, economic news, and charge-free bank wire transfers.
ELITE- This account is an advanced-level type which provides everything that a professional trader needs. It offers technical analysis and clients may enjoy the super-user level of trading for a deposit of $100,000. To mention, it has a fixed spread, making it more advantageous to professional traders.
ELITE PLUS- This type of account requires a minimum deposit of $250,000. This comes with all the premium features that the Elite account offers except that it also provides a personal and private EU bank account.
VIP- Traders who have the most experience in trading may open this account for a deposit of $1,000,000. Similar to the Elite account, its spread is fixed and offers the MetaTrader 5. Premium features include technical analysis, charge-free bank wire transfers, super-user level, profile management, and a private EU bank account.
ASSETS AND OTHER SERVICES
LBLV has a decent selection of assets and it provides all four major categories. Selection for currency pairs is wide since it offers 50 different pairs. Metals include gold, silver, and platinum- all of which are sought-after metals. It also offers five commodities, 300 shares and over 40 indices for clients to choose from.
As all of its services intend to provide a trader-centered approach, it offers educational materials for ease of use and convenience. What came to be one of the most interesting perks of subscribing to LBLV are its free trading signals. These signals help traders assess whether to buy or sell currency pairs and the company does not charge clients for using such. Though these signals may sometimes bear inaccurate results, they surely give advantages to traders in expanding their margin of profitability.
Moreover, LBLV offers e-books, and these can be downloaded without hassle. Traders may resort to this to better understand the fundamentals of foreign exchange trading. Other e-books offer discussion about indicators and market movements but generally, it provides an authoritative guide on how to start with your Forex journey. Other helpful features that traders may use are analysis and tutorials, bearing the same effectiveness and purpose that e-books provide.
DEPOSITS AND WITHDRAWALS
Deposits are placed with convenience as it can be through wide selection of methods. This includes credit or debit card and bank wire transfers. Clients may deposit using USD, GBP, EURO, and AUD. Moreover, electronic wallets can also be used including:
Skrill
Qiwi wallet
UnionPay
Neteller
WebMoney
Yandex
The same methods are applicable when it comes to withdrawing funds. Visa and Mastercard withdrawals are available and the maximum withdrawal is reliant on the card provider. Through credit and debit cards, withdrawals are processed within one business day. Moreover, similar e-wallets can be used; only that withdrawal method includes Moneta. When e-wallets are utilized, withdrawals are processed within one business day and the funds will be received between one to three days.
CONCLUSION
Clearly, LBLV solutions are developed to facilitate the needs of more advanced traders. It is evident with their entry level deposits and this may price out newbie traders. To note, their $1,000,000 deposit indicates the strata of clients they are marketing their services for. With other technicalities, everything is intact especially its strong customer support and educational materials, making LBLV a decent and legitimate foreign exchange broker.