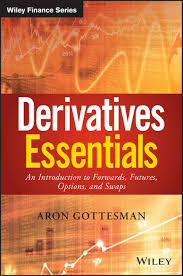 Seen by its readers as work with depth while managing to be concise and accessible, the book, "Derivatives Essentials: An Introduction to Forwards, Futures, Options, and Swaps," is your go-to guide to all things securities. It is comprehensive and leaves nothing to guesswork.

While not necessarily layman, the language that the book uses does not leave the content to interpretation. It is straightforward, as is needed in the more technical of topics. Although the material includes Mathematical aspects (which cannot be entirely avoided given the field being tackled), the understanding of the issues on securities takes center stage, thus invigorating even the most novice f practitioners to engage.

The following topics are discussed at length:

Understanding of concepts surrounding Derivative Securities
An engaging explanation of the nature of securities, it's pricing, and how sensitivities are offset
The proper way of product pricing and valuation
Examination of trading strategies and practical examples for each product
The book goes into a detailed discussion of pricing and valuation as it recognizes that such facets of securities need to be focused on greatly. This, the authors give much precedence to as this gives power to market participants to handle them with much efficacy. This allows for the conduct of both short-term and long-term market goals. It boasts of clear and balances insights needed by every level-headed and driven trader and investor.

Having said this, the book "Derivatives Essentials: An Introduction to Forwards, Futures, Options, and Swaps" is a tour de force, one that deserves a space in your bookshelf.

About the Author
Financial markets, derivative securities, and asset management are areas of expertise that Mr. Aron Gottesman that diligently and efficiently writes about. Mr. Gottesman has under his belt, 30 academic articles, and books. He has also been cited in various publications. At present, Mr. Gottesman works as a Professor of Finance at Pace University. He holds a Ph.D. in Finance, an MBA in Finance, and a BA in Psychology, from York University. On top of all these, he is a CFP® Professional.